As you've probably noticed, Masten has a new look! We're excited to share a sneak peek into our brand refresh.
To give you some background, Masten Space Systems started as a rocket company nearly two decades ago in 2004. Since then, we've mastered vertical takeoff and vertical landing with more than 600 successful rocket-powered flights. We've tested a lot of cool space technologies aboard our reusable rockets and engine stands. And we've pioneered a lot of new developments to tear down the barriers to space.
Through these innovations, we've evolved into a space infrastructure company. Now we're applying our terrestrial rocket experience to missions to the Moon, Mars, and beyond. We aim to accelerate space ecosystems by first enabling regular access to the lunar surface. Then we'll make it possible to extract and utilize extraterrestrial resources like water, methane, and rare-Earth metals.
The ultimate goal? Unlock the value in space to benefit humans on Earth. We're opening the door to new scientific discoveries and commercial applications that will ultimately benefit the industry, economy, and environment.
As we enter this new chapter, we're proud to share our new look that better reflects our long-term mission and vision. A key component of this brand refresh is our new logo, so here's a peek behind the curtains…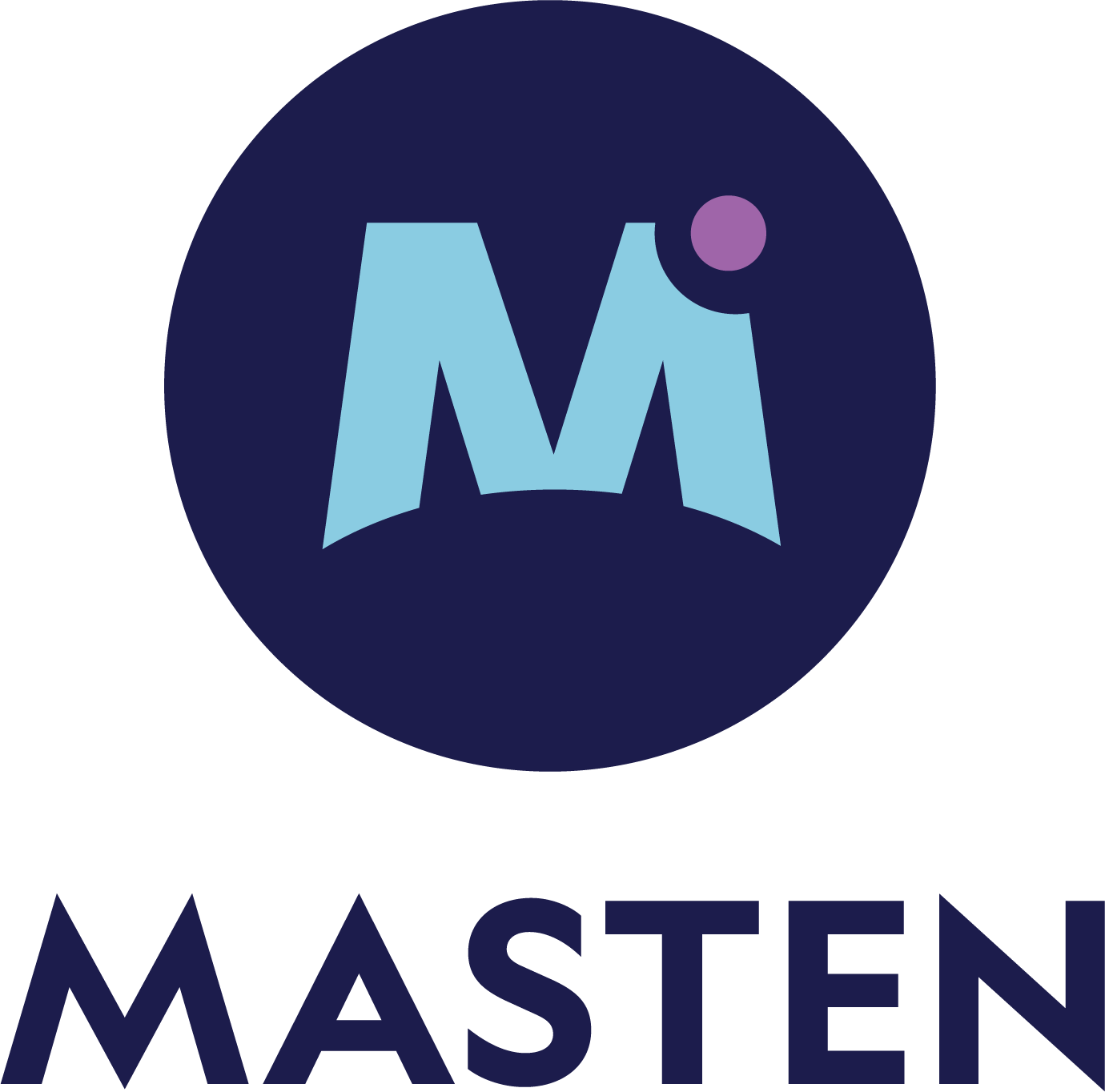 What does the new logo represent?
The blue colors and subtle Earthrise below the "M" represent Masten rising above our planet to unlock the value in space for humans on Earth. And the purple circle represents the different celestial bodies Masten will enable access to in space. The circle is left open ended as to which planet/moon it represents since our ambitions span across the solar system. Our upcoming mission to the lunar south pole will be the first of many Masten missions to the Moon, Mars, and beyond.
Why refresh the Masten brand now?
In full transparency, we've never actually had a "marketing department" until now so you could say our branding has been a bit inconsistent. But we're proud of what we've accomplished over the last two decades and think it's important to celebrate our history.
Anyone remember Masten's OG logo on the left? Our new logo takes us back to our roots in a way with a more modern approach. The simplicity of it gives us more versatility in how and where it's used, and the meaning behind it gives us more room to grow. We're not just flying rockets, and we're also not just landing on the Moon. We're building the infrastructure to access and utilize our solar system, and you're coming with us.

What else is changing?
Although it won't happen overnight, you'll start to see our new look and feel reflected on our website, in our facilities, and on our landers. Believe it or not, we've never actually had any guidelines around our colors, fonts, etc., so you'll start to see more consistency in our visual branding.
But the more important question is, what's NOT changing? And that's our core. Masten's values as a company have been the same since day one, so don't expect that change.
No BS: We're direct, honest, and transparent. We stick to our word and own our mistakes.
Iterate and adapt: We use the agility of a startup and experience of big aerospace to move quickly and efficiently and adjust to the needs of the market.
Be good ground crew: We always help a crew member in need. That includes our coworkers, partners, and competitors. We believe the industry is better together.
Tenaciously create value: We measure our success by the success of our customers. We'll do what it takes to land their mission.
We're excited about this next chapter of Masten, but we're still grounded in what matters. That allows us to stay focused on going from Mojave to the Moon and beyond!